Exclusive Talks
+ Resources
+ Bite-Sized Motivational Notes
Story | Ingrid Lill Discusses Visual Thinking, Business Storyboarding, and Finding Your Superpower
There is no better way to start the new year than by sharing with the world one of its best-kept secrets — the gem that is Ingrid Lill. She's the person you seek if you are trying to figure out your superpower. Ingrid makes it easy for you to see yourself and your business with fresh eyes by using visual thinking. She describes herself as a business coach with a pencil, but as you are about to learn from my candid conversation with her, she is so much more.
READ MORE
Story | Lori Taylor Davis Talks Smashbox, Pursuing a Career in Beauty, Setting Goals, Challenges, and Building a Brand
For two decades, Lori Taylor Davis has been at the helm of one of the world's favorite cosmetic brands – Smashbox Cosmetics, an Estee Lauder Company – as everything from Account Coordinator to Lead Artist to Director and Global Pro Artist/Pro Relations. From her trademark big hair and glasses to her face-painting skills, undeniable wisdom, and calming spirit, after hearing her story, you'll quickly understand how this all-around exceptional human being became the face of a legendary brand.
READ MORE
3 Ways to Make Sure You Book Clients
You dreamed of becoming a creative entrepreneur significantly to benefit from working for yourself and doing something that won't make you feel you're getting your soul sucked out through your ears! But how do you get new clients you need so badly when no one knows you or your work?
READ MORE
Story: Gabbi Pascua Talks Winning an Emmy Award, Launching a Beauty Brand, and Staying Motivated
Like most creatives, Gabbi Pascua's journey is more comparable to a jigsaw puzzle than driving in a straight line on a one-lane road. I sat down with Gabbi to discuss her career highlights, challenges, and aspirations. Gabbi talks about the importance of mentors, what influences have affected her life, and the life-changing advice her mom shared with her.
READ MORE
5 Mistakes Every Creative Entrepreneur Makes
Whether you're thinking about dipping your toes into the whole starting-your-own-business thing or you're already running a start-up of your own, being your own boss can be one heck of a party.
READ MORE
3 Books on Branding Every Creative Must Read and Why
Instead of racking your brain spending hours on Google trying to piece together brand-building strategies for creatives, three books get straight to the heart of understanding the wisdom needed for a successful and effective creative life.
READ MORE
Hey You!
Sincerely HER provides personal development tools to help you find clarity, get sh*t done, and win.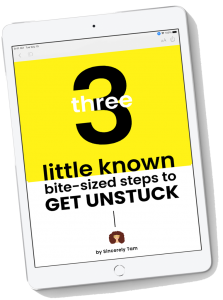 Stay Focused and Get Sh*t Done!
Get your FREE guide with 3 bite-sized steps to overcome feeling stuck.