Story: Gabbi Pascua Talks Emmy Award, Launching a Beauty Brand, and Staying Motivated
Like most creatives, Gabbi Pascua's journey is more comparable to a jigsaw puzzle than driving in a straight line on a one-lane road. Motivated by a sink or swim attitude, she overcame several obstacles to become an Emmy Award-winning makeup artist. Gabbi has not only worked with recognizable celebrities from television to music, but she is also making a name for herself as an entrepreneur in the beauty industry with the launch of her brand, SUIT Beauty.
In my first interview for the Sincerely HER Podcast, I sat down with Gabbi to discuss her career highlights, challenges, and aspirations. She shares her path, from high school to studying fashion marketing & merchandising to the makeup school she was enrolled at, going bankrupt, and stepping into adulting. Along the way, she worked at legendary cosmetic brand Smashbox and on the award-winning TV show The Talk.
Gabbi talks about the importance of mentors, what influences have affected her life, and the life-changing advice her mom shared with her. What sets Gabbi apart is her determination and grit. As you'll learn from her story, life can take you down a twisted highway, but when you believe in yourself, arriving at your destination is that much more rewarding. Her story is nothing short of intriguing and inspiring for anyone looking to find clarity, get sh*t done, and win.
LISTEN:
Full Interview Available on Audio
What motivated you to narrow down your focus and solely pursue a career as a makeup artist?
I was forced to kind of streamline my career options, because I graduated high school at the peak of the recession, in 2008, and my parents were heavily affected. So [they] sat me down one afternoon, and my dad just was very vulnerable and sincere and was like, "Sweetheart, we aren't going to be able to financially support you as you go to college. Every financial decision that you make from here on now is yours, and solely yours." [He] was like, "I honestly don't even think that I would be accepted to cosign anything," at that point. My parents wouldn't be able to pull out loans for me. They kind of laid it out. And my dad was like, "How much is it a semester? How much do you want to take on debt-wise?", and then my mom was in my other ear, telling me simply, "If you want to do makeup on the side, you could do that as a profession. And instead of just going to makeup school, I want you to be able to invest in yourself so that you have a license, so that you'll always have something that no one can take away from you."
She was just like, "If you are going to pursue a career in makeup, don't just look for a job, invest in longevity." And she talked me into turning into a California State Board professional, not just, "I went to makeup school." Not to discredit anyone that did just go to makeup school, but she was like, "I don't want you to just have a certificate, I want you to be licensed." I think it came from a place of "If you are not going to choose to get a degree," because I think that's what they saw me going into there. Like, "If she goes to makeup school, and she moves to LA, that's it. We know that that's where she's going to be." My parents wanted me to be in LA a little bit more prepared, with a little bit more of like, career options. Because getting my license was something that allowed me to do both hair and makeup and kind of say yes and no to whatever was in front of me. I could branch into just skincare, or I could have gone into, you know, just being a hair stylist in a salon, which is what I did to pay the bills when I first moved to LA. And then of course, it's like makeup is encompassed. It was kind of circumstantial. It was my circumstances that put me into this position. But I still, to this day, want to go back to school.
Your parents encouraged you to pursue your dreams. Was the decision to leave art school and move from San Francisco to Los Angeles difficult?
No, actually. What happened was, I applied for art school and I got accepted. It was literally registration week, and it was going to be the Art Institute in San Francisco. I was living in Oakland, and my mom was like, "Hey, before you go to register, let me take you to this beauty convention in Vegas." She made me sit through all of the seminars, and spend three full days in this convention, talking to people. She just threw me in and was like, "Open your eyes. Look, if you were to not go to art school, and just focus on your beauty career, you would be a part of this." I think those three days, it's what convinced me, and I already wanted to move to LA. I was telling my parents, "Oh, I'll just go for a summer and get certified and come back." But then the more I looked into it, I was like, "No, but LA is the only place that you could actually be a beauty professional, and build the life on top of that," because the San Francisco Bay Area was very limited.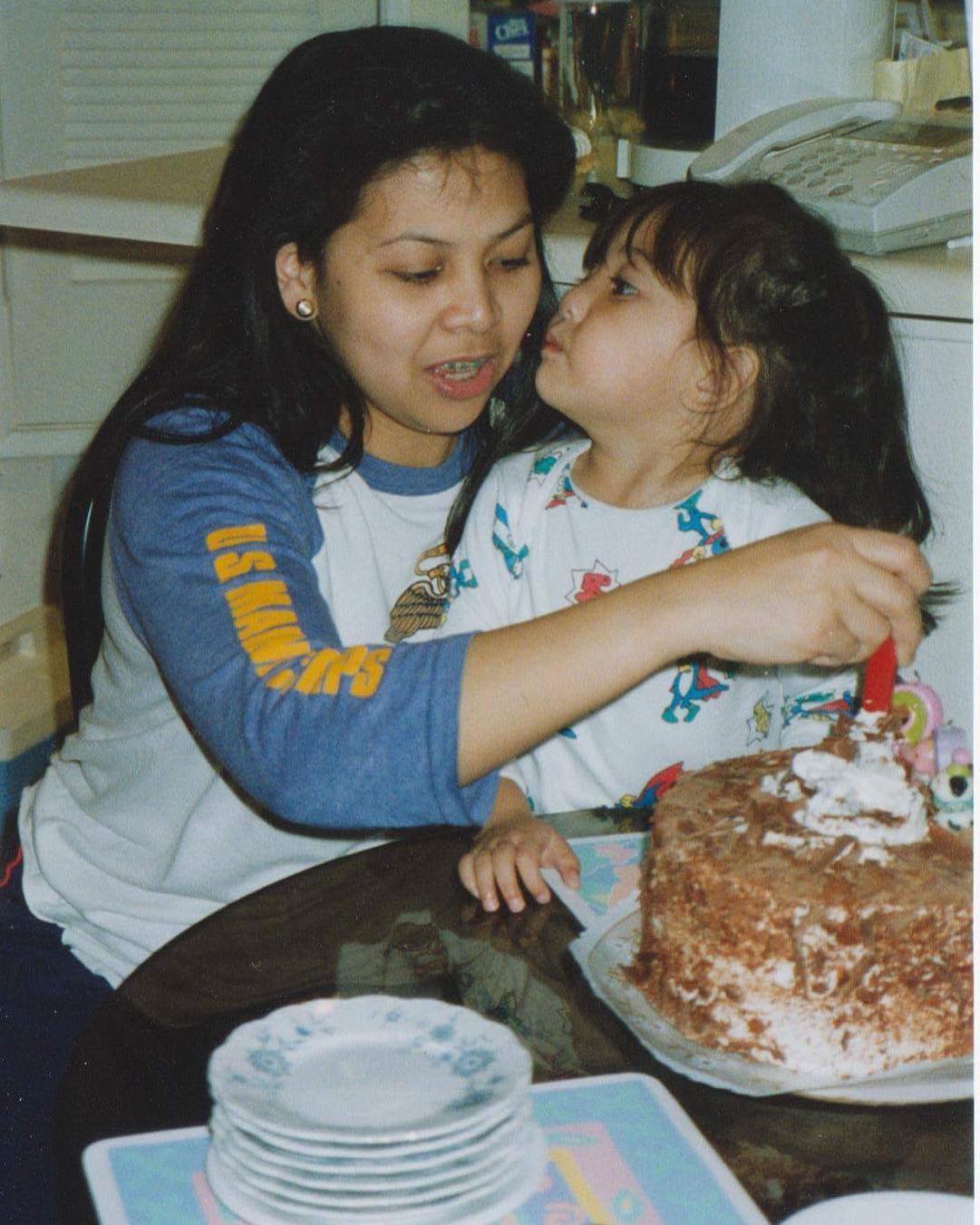 Not saying that you can't, but you can't really expand as much as you can here in LA. [In LA] you could work every single day as a beauty professional, if you choose to. It's not hard to find work. There's so many people here. So yeah, it was not a hard convincing. It was, I think, more of a hard convincing towards my ego, because all my friends are going to UCLA, or going to a state [college] or San Diego. I was the only one that chose art school or beauty school. I don't really know anyone else out of my group of friends that chose a trade. So it was just more, "I'm not doing what everybody else is doing." That kind of halted me for a second. But other than that, I really wanted to. I wanted out of the Bay Area. I was like, "I want to try something different." I was very precocious. I just wanted to get away from my family, and prove to them that I can take care of myself. So yeah, that was what drove me really.
What drives you? I know you faced some difficult moments when your makeup school went bankrupt, the owner of the salon you were working at passed away. What kept you motivated to pursue your dreams, no matter what?
I think what kept me motivated was, like, sink or swim. It was literally feast or famine at that point for me. And a lot of pride. I'm Filipino American, second or third generation depending on who you're talking to. All of my family's here, I'm definitely a California girl through and through. But you know, I have a big Filipino family who, everybody's always talking about someone or chiming in with their opinions and their perceptions. And everyone went to college, and I'm the oldest grandkid. So all of my aunts and uncles were like, "Why isn't she going to college? Why is she moving? Why is she? Why?" And my parents were like, "Show them, shut them up." I remember getting a phone call from my dad. He was like, "Sweetheart, I know you are in LA because you felt called there and you wanted to do it. This is your dream and I don't ever want to hinder you from fulfilling your life goals or your dreams. If that's what you want to experience, shut the family up. Put your head down, show up and work."
He was like, "Give it all you got. Because literally the only thing you have to lose is time. And you can always come back home." That was a big thing. "You can always come back home. But this is the time to just double down and give it your best shot, because what do you have to lose at this point?" I knew no one in LA and I had no money. I was barely supporting myself. I was couch surfing, I was moving every other month, it was a mess. All the adversity that I was challenged with within the first six months of me being here got me to this place of feeling really empty. I was just like, "I'm going to stop trying to take control over my life or make it fit in the way that I think it's supposed to fit." It was a lot of talking to the ceiling, being like, "God, if you're out there, if I'm supposed to be in LA, I'm open to the idea of it, but I need a sign. I need to know." It was a series of events, after all of the hardships in the first six months, that kind of gave me a little bit of hope. But I honestly just doubled down and showed up and worked. I gave it my best shot.
People don't follow their dreams because they're scared. Would you suggest investing in makeup school?
It's kind of yes and no. I would say, if there's an individual out there who knows that all they ever want to be in is beauty—that is the industry [where] they want to carry out their livelihood, and that is the area of expertise that they know for certain that they want to be in—I highly suggest going to a beauty school. I felt like my mother, like actually getting your license [is best], because if you are a licensed cosmetologist, you can transfer that into any state, you can always work in a salon. There's a sense of reliability, there's an expansive network that you will automatically be a part of. On the flip side, like as a makeup artist, if you want to expand the basics and go into effects—specialize in character makeup, do the prosthetics, do the bald caps, maybe even lab work like working in one of the effects shops, because that's a whole other element to it—
I would say go to makeup school. Although they are under the umbrella of beauty education, the direction that you can go in, either going to makeup school or going to beauty school, are two separate things. I would highly suggest makeup school for effects. And for all of those things, if you want to do weekend courses on bridal or beauty and stuff, do that. But if there's an individual out there that just wants to do beauty makeup, and also might want to dabble in skincare or is intrigued by it, I would highly recommend investing more in getting your aesthetics or cosmetology license. Yeah, if that makes sense. That's my two cents on it.
Note: Since this interview, Gabbi went back to school to become a Master Esthetician. She wanted to further her expertise as a makeup artist to be knowledgeable and well versed in skin-care for her clients on and off set.
In addition to your Emmy, you have some pretty famous celebrity clients, and you launched your own beauty line. Were those goals that you set out for yourself, or did they just kind of unfold? Did you write out a list or did you say goals?
It definitely unfolded. I could not have told you that all of these things were goals of my life. When I started 10 years ago here in LA, to be completely frank, there was one moment within the first year or two of me living here [where] I distinctively remember being on the phone with another artist, who was a couple years ahead of me. And I told her, "I don't want to work with actors, I don't want to work in TV. I would rather be in New York." And foot in my mouth, I ended up in the celebrity circuit working in TV, so you know, never a goal. It definitely was something that just felt so far off. I also never intended on building out the beauty line. That was something that I also kind of fell into as I was navigating my next steps, being a millennial makeup artist, but we can touch on that later. But yeah, it really all unfolded. I remember when I was like 18, I went to the makeup show with my mom in LA. It was their first convention in LA, 2007, 2008.
I was sitting through all of the seminars with all the local 706, iconic artists. And I remember I looked at my mom, and I was just like, "How funny would it be if I was to win an Academy Award one day?" I said that out loud. It was one of those things where, when I got my first nomination, I was so humbled by it. I didn't even know how to take it. I didn't even tell anyone. Like, I told my closest friends, I was in my apartment with two of my closest friends. And my friend Josh looked at me and was like "Gabbi, that's an Academy nomination." When he said that, I legit felt like my stomach was going to come out of my throat. I was like, "Oh, my God." And I don't know why the thought of me and my mom being at the makeup show all of a sudden just regurgitated and I was like, "It actually happened." Like, what, how's that even real? So, yeah, it was never a goal. Never. Ever.
LISTEN:
Full Interview Available on Audio
So, what was your first job experience as a makeup artist?
I was 17 and I got hired. The first paid thing I ever got was for a wedding in the Bay Area.
Can you share how you landed your job at Smashbox Cosmetics and how that platform helped you with your career?
I was working in a salon. My boss had just passed away. It was a Twilight premiere party, and we were getting all of these editors and publicists ready to go to the Twilight premiere at the salon. And I kind of connected with one of the clients. She was asking me what had happened and why there were so many flowers on the station. And I was like, "Oh, because the co-owner, my boss, literally just passed away earlier this week." She was like, "Oh, no," and I kind of started telling her the story. And I don't know what it was, just, I felt compelled to ask her, "Hey, how can I get on set? I don't want to be in a salon." And she was like, "Okay, I'll give you a couple leads." She gave me a lead to Lori Taylor at Smashbox, and she was like, "She's the global PR lead there. You should hit her up. I'm sure she can help you out." So I hit her up. But I didn't hear back.
Then I just did what everybody tells you to do. I was shooting my shot, and I legit emailed her every week and then called and left voicemails, and it was just, consistently going after Lori. She finally emailed me back and was like, "Do you want to come into the studio? Let's meet face to face." So I did, and she was like, "What's your story? What do you want to do?" I was like, "I want to be a makeup artist, and I just want to work." And she was like, "Okay, I need specifics," and I was like, "No, I just want to be a makeup artist and I want to be around it and I want to learn. I'm open to anything that you have." So that's how I started. She offered me a position to assist the assistants.
Basically, on this fashion show—it was at the W Hotel, this charity fashion show—I was on body and I just went around making sure that they all had everything that they needed for their stations, making sure that their trash was taken up, did lotion on legs and arms and on elbows before models walked on, but it was really just to feel it out. She was like, "Yeah, I like to try people and feel them out, if they vibe with everyone or not." After that, she invited me to come into the studio. I would intern and literally just clean out the PR gifting closet, and I was paid in product. So when I would come and shoot, I remember she was like, "You could pick five things for your kit." And I was like, "Oh my god, this is amazing." I would go in and build my kit by cleaning out their closet, unpacking boxes, doing shipments and stuff. And then from doing the shipments and being in the closet, and just at the studios, I was able to befriend some of the people that worked in the grip room.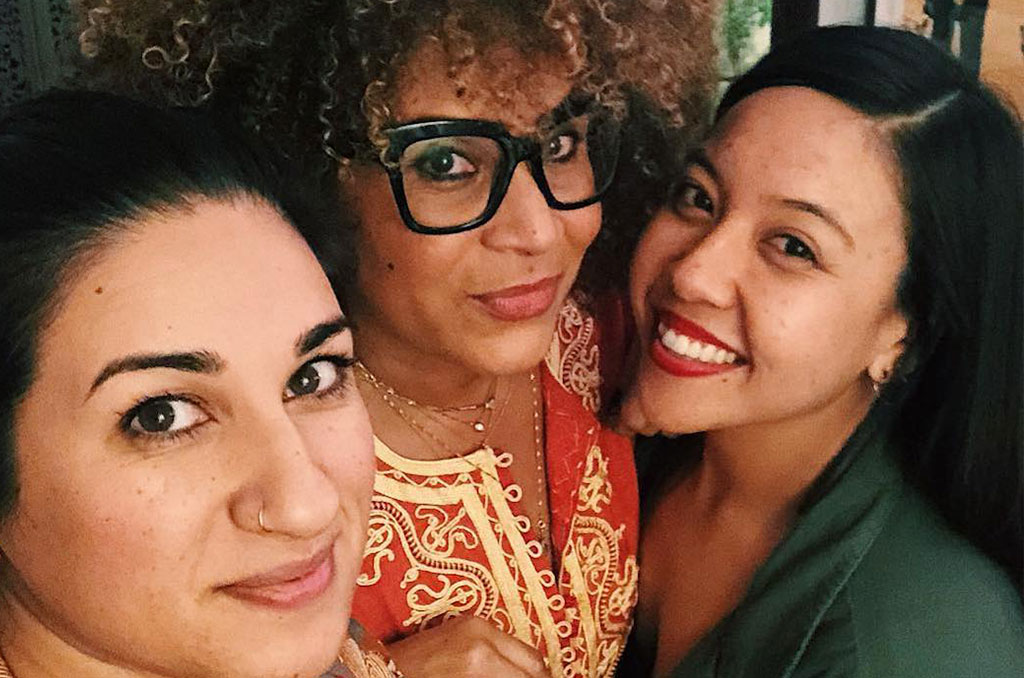 pictured: (l-r) Kirin Bhatty, Lori Taylor-Davis, Gabbi Pascua
A couple of my friends too, were working the front desk at the studios, and they're all photographers. And Smashbox—at that time, this is before they got purchased—they used to donate the studios for the grips, and for all the photo assistance, so that there would be a space for them to build portfolios, which was so generous. So we would stay after hours and build our books and use Smashbox Studios to test and create. That's how I got some of my first images. Then I started assisting Lori's assistant, and got trained [in that], so that I was able to, you know, assist different artists on various cuts, from advertising to editorial to beauty campaigns. Then I slowly found my way into working and assisting on the Smashbox campaigns, but also simultaneously expanding upon their networks, because then I was doing a lot of their events. And so then I would meet other artists that would throw me jobs. It was like, this cyclical thing that I just kind of got thrown into the circuit.
Then I started assisting for ads, primarily advertising jobs and beauty. Target, Kohl's, you name it, like in-store images, I started there. From there it went into high-end fashion editorials, assisting different artists that would come in from New York and London. I would start assisting big artists that way. Then I slowly but surely ended up assisting top-tier celebrity artists here in LA, and ended up just kind of being on the radar at some of the upper-echelon agencies. And from there I found myself in Celebrity, actually really liking it, and never thinking that that was the direction that I wanted to be [going] in. Then, you know, I ended up finding my client. She really kind of took me in and invited me into the TV world. But Smashbox was such a pivotal platform for me, because I was really able to grow. I really grew up there.
What's the biggest lesson you learned from working with Lori Taylor at Smashbox Cosmetics?
Oh, my gosh, so many things. What I learned the most from Lori Taylor Davis was just to be a good person, to just show up and do good work. You're there to be a hand to your talent and to support the art that you are creating with the team that you are involved with. And also, the biggest thing was to be generous. She is so generous. Between the generosity and just being a kind and humble human and never wavering from those two things, that's my biggest takeaway. That's something that I've always kept with me. And then on artistry it was, don't ever rely on your product, rely on your artistry. That was something that really carried me through TV.
How important is mentorship to you? Do you think everyone should have a mentor? Do you mentor people?
I think mentorship is crucial, especially in this industry. Especially in entertainment. I don't think that I would be this far had I not had mentors to guide me. It was interesting for me, because from my experience, I was 19 when I started. Being 19, that's such a pivotal time in your life. I was always frustrated because I felt like, "I'm not settled enough. I'm not older. I'm still trying to figure out life, and I have to figure out what it means to be a makeup artist in this industry [where] I don't even know left from right." So you know, going into it, that was the only thing that carried [me] through is having mentors. How important it is now in my life… I think stepping into the business standpoint, absolutely. Always looking for a mentor, always looking for advice. I'm always looking for someone to help guide [me]. Because again, I feel the same way I did when I was 19. But I'm 29 now, stepping into a different business venture. That in and of itself is humbling, and I feel like I'm starting all over again.
I'm looking for mentorship in that arena because I want to know how to successfully posture my business, and so that I can, you know, not necessarily fit the mold but go into the direction successfully. Having mentorships, I think, postures you in a certain way for success. Not to say that you can't do without a mentor, because I think you absolutely can, but I just always… I'm the type of person that needed a little bit of reassurance and hand-holding. And I also feel like, as an artist, early on my mentors threw me jobs, and because of my mentors trusting me with their clients, and relaying that back to agencies, or relaying that back to any other publicists—that was how I was able to make a name for myself, because I didn't build a career off of social media. It was literally all word of mouth and networking.
What advice would you offer someone looking for a mentor in a creative field? Lori and some of the other people that you've worked with trusted you with their clients, and you were able to pick up where they left off. What would you suggest to someone who is 18 or 19 years old, who has dreams of becoming a makeup artist, or a hairstylist? How would you guide them in seeking mentorship?
I would say be a sponge. Really soak up all the information and take what you like from each person. Take something, take a piece of advice that's different, that might challenge you, and really humble yourself in the process and just be open to learn. The biggest thing is that going into being mentored, I think I was very receptive towards [it], because I was okay saying I didn't know everything. I was okay asking for help. So I would say, first, if there is somebody that wants to make it [and] wants mentorship, but has a hard time taking advice, know that the person that is choosing to take you on as a mentee, they want to teach you or help develop you in some sort of way. So allow them in.
And also, I think it's great just to help sharpen your artistry, because when you're on big sets, you get to see the rhythm. You get to see how those artists respond to pressure, what their lifestyle looks like. I had one mentor, Blue. He inspired a lifestyle, because of the sobriety that he had. I was on the fence and I had met him at this pivotal time in my life, in my 20s. I started working with him then. And when he was open about it and shared that view, it really helped steer me into understanding, like, "I can be sober and work in this industry and not feel like I'm going to be left out." Oh, and he's really successful in succeeding. In his career, he has longevity. So I mean, you could take away more than just a career, you can also take life advice from your mentors, which is something that's so invaluable.
What strategic advice would you offer someone now who is looking to break in the beauty industry?
The best piece of advice that I would give to somebody would be the advice that I got when I was first starting off. Your first five years are your hardest, so you use that as a barometer to kind of check in with yourself, and just give yourself time. This industry isn't really like, it's not so consistent. Also, identify what your big break is. For me in retrospect, my biggest goal, more so than anything, was I wanted to be able to build a life. I didn't know how to articulate that when I first moved to LA, but all I ever wanted was to make LA home. And the moment that I finally got that was when I felt like I made it, when I was living on my own and I was actually building my life. I wasn't just working anymore. I was actually able to take time out to enjoy myself, to enjoy my friends, to travel, to do the life things that I wanted. That meant more to me than any celebrity or any job. I was like, "I just want to be able to have time in my life." So that was my big break. And it's different to each individual. I would hope that everyone would be able to identify that, so that they can work towards those goals.
You brought up something interesting. I have to ask. Do you subscribe to the theory of life/work balance? Or do you believe it's impossible?
I don't know if I believe in that. I think that there's a time where that's possible. But I feel like balance is also kind of broken off from perfectionism. If you are able to balance everything, you have everything perfect, but life is really messy. And I think that especially freelancing and working for yourself, there's times that you're going to go hard, you're going to work for two to three weeks, maybe, straight. And then guess what, you're going to have two to three weeks off. [If] you're going to be working in entertainment, working for yourself, there isn't really that structured nine to five rhythm. You can create it for yourself and try to make that life/work balance. It's a great concept to strive for. But I think, realistically, that it comes down to prioritizing. It comes down to what each individual wants for their life and for their career. And if there is a life/work balance that works for them, then great, go for it. But it's that quote, unquote, life/work balance, I feel like is also a really… I don't even know how to articulate it. It's something that I feel like there's a perception about, but it can't be that for everyone.
Also for me, work/life balance looks like "I want to be able to do the things I love or do the things that give me fulfillment." As long as I'm feeling fulfilled, I feel balanced. I think, exactly what you're saying, there shouldn't be a disconnect in what makes you feel whole. I mean, even circumstantially for some individuals, that's not the case. I believe that you should find fulfillment in everything that you do. Especially if your career's the thing that you're spending the most time in, you would hope that the field that you're in gives you a sense of purpose in life, fulfillment, that it doesn't make you feel like you're off kilter. You know, managing time is a different thing. Like what you're saying, I don't work past 4:30. I want to be able to enjoy a little bit of the day, not only leave the office when it's nighttime. But yeah, I'm all for fulfillment. Work/life balance for me looks like, you know, just being able to do things that I love, like traveling. As long as I could travel a few times a year and go somewhere new, or just have a moment to be with family and breathe a second, to not work and just be very, very present—that's all that matters to me.
What's a typical day for you at The Talk? Is it a seven-hour day? A four-hour day? I know sometimes you may film two shows in a day. But is it like a full workday? What time do you typically come in? What time do you leave?
The Talk was such a job, which is the reason why I was able to build out the beauty brand. I would go in, like we had an 8 am call time And then we would wrap like, latest at 2:30 pm.
That's the perfect day.
Yeah. It gave me a lot of time, which I was so grateful for. And I definitely needed it. It actually showed me what balance looks like, to go back to that quote, unquote, work/life balance. It gave me a little bit of structure, but a lot of freedom all at the same time. So I really wanted to do something productive with it. And since I was in TV, and I couldn't really freelance and say yes to the jobs that shot during the week, I explored what it meant to be a millennial makeup artist, to kind of understand what I wanted to do. I tried the whole blogging, I tried YouTubing, I did like one video. I did a couple blogs, one by myself, and then one with a friend. And from there, I was like, "Oh my gosh, I feel like I'm working myself into the ground." And I didn't feel good about it. So then I chose to just focus on me, and doing the things that would give me fulfillment. I started taking time out for myself and to get clear. And then my indie beauty brand started, because of the failed attempts on doing anything on social media, and really wanting to integrate something that can tie in my artistry with a little bit of a digital platform, but not solely relying on it.
Was that a dream where you were like, "Okay, I'm going to start my own line"? What triggered it? Because sometimes people start things out of necessity. Like maybe you're a makeup artist, and you want a certain shade, and you're not able to find it, so, "I'm going to create my own."
Definitely not a dream. It was more of an idea that would float in the back of my head occasionally. And a little bit of necessity, just on a personal standpoint. So, this was like 2013 with the upward swing—or not even the upward swing, just the budding of the green beauty brands and clean beauty, chemical free, natural ingredients. I was frustrated because I was tired of seeing models on set, when we've worked like 12-hour days and modeled your talent, having ridiculously chapped lips—putting everything on it, and it still was chapped. And I was like, "Why can't we find a lip balm that actually will suit all day, or see progression and somebody's lips changing?" And then I was at home one day, and I was looking for a lip balm and trying lip balms on and I thought, "All of them are nasty."
I was like, "These are gross." And I was leaving my house with a friend. I was like, "I can't find the lip balm that I like," and we got into my car, and I put one lip balm on. I was like, "Even this, I don't like the way it tastes," or whatever. So I looked at my friend and I was like, "What if I was to make lip balms for myself, all natural, and then maybe put it in my case?" She was like "You should." So I was bored one afternoon and I went to the Container Store and YouTubed how to make your own lip balm. I started concocting different lip balms, pouring them and refrigerating them, and I would put them in my kit. That's when I started working with a couple of my celebrity clients. I was like, "I think I'm going to start a lip balm line. How do you like these?" and I would have them sample. It was a cute little mixture of flavors and they're like, "Oh, I like it," and then, you know, shelf that. It wasn't until after I traveled, after I failed blogging—like, I failed before I even started, I was just bad—and I went on this trip to Europe and really cleared my head. And I was just like, "Maybe I should come back and try to do the lip balm thing."
So I did, and I was working with green beauty lines. And no one foundation was the same batch, every single time I would purchase a new bottle, and nothing was matching my client Sarah. Every day I would have to cocktail all these different colors and pigments to match her, or to make her blush the color that she wanted, I was doing custom formulations. One day she was moving out of one house into another, and she was like, "Hey, do you recommend a foundation? I know you mix every day." And I was like, "Yeah, I could just bottle my mixture and give it to you, out of what I do." And I don't know what it was, telling her, "Oh, I could bottle it for you." Something clicked in my brain, and I was like, "What if I was to create a line that coincided with a blog? But maybe not even a blog, just a line." From that moment on, I kind of started looking into it.
And then to touch a little bit of the necessity, it was wanting to create options for people who didn't understand green beauty and who didn't really mind it, but also not wanting to draw a hard line between conventional and green. Because the thing about green beauty is that it expires very quickly. It's lower quantity and higher quality, but no preservatives, which means every single thing expires. At one point I was refrigerating some foundations, just so it wouldn't get the chalky, like, old crayons smell because of how fast it would turn, especially against hot lights in your makeup session. I have a setup and I had lipsticks in a jar. There was one day, I went through [them] and one of the green beauty lipsticks literally had mold on it. It freaked me out. I threw everything away.
And I was like, "This is because there's no preservatives in it. People need to understand, yes, there are some lines that have a lot of chemicals. Yes, there are some that are super green. But let's understand why there are some preservatives in it," you know. So that's why the brand started. I wanted to bridge a gap. But also brand-wise, just never feeling like I fit in, I wanted to create a community for everyone to be able to have a voice and be seen. Primarily for the Asian-American or the Filipino-American community, because I've never felt like I had anything identified for me or my friends, or the girls of the in-between. That's where the branding tied in. But I don't want to go too far off. That kind of answers everything for you.
Where did the name SUIT Beauty come from?
SUIT Beauty came along because when I had originally filed for the business, it was under a different name. And I was so annoyed by the name. I had only been working on it for less than a year. When people would ask me what my new brand was, I would tell them sheepishly and kind of embarrassed, and I was like, "Oh girl, that is not the way you should be responding to people when they ask what the name of your brand is." And simultaneously as I was working on the business, I actually was getting sober. It was within my first three months of sobriety. So I kind of had it with the name, and in a meeting, somebody had said, like, the whole purpose of why we're here is to serve one another. And that's totally stuck to me. That was the reason why I founded the brand, was to help serve my clients and other artists. I wanted to serve the beauty community. Service was the core root of the brand. And we're [looking for] the brand identity, so I Googled the word "serve" or "service", and "suit" came down way low on the Google dictionary search, with the definition of "to be acceptable for or convenient to". So I was like, "What suits you," because beauty is what suits each individual. I was like, "Oh my god, I think this is it." And that's how "suit" really came in, because it was more of "What suits you," like, "Beauty, a suit for all." It just really stuck to me, and so it's SUIT Beauty for now.
You have accomplished a lot. What's your greatest challenge marketing your brand and marketing your services as a celebrity makeup artist?
The biggest challenge has always been for me, like working on the celebrity circuit and in entertainment, has always been my social media game. I never played that game, or found interest in doing so because it completely scared me. I started my career in 2010, at the launch of Instagram. So being a millennial, I was on Instagram when it started, and I remember I was starting to post stuff about makeup. But that wasn't really when the industry was catching on to Instagram and social media. So there was one big set that I got left on, it was one of my first jobs and a really great stupid mistake on my end, I had posted something via Twitter that linked to Facebook. I think the integration between Twitter and Facebook had just started. I did not know how to work on the integration, and I would just hashtag because I saw other people hashtagging, but I didn't understand what hashtags actually did. And so I hashtagged the magazine.
And that, of course, got back to the publication office in New York and Chicago called LA. I got yelled at by a publicist, got it served to me on set about my social media share, just saying that I was there, and I posted a picture. The reprimand was so scary for using social media that it actually hindered me using it, ever. I stopped, right as it began. So I think that has always been my biggest challenge is trying to understand how to tell my story via social media. Since it is such a big part of being a millennial artist, and that is the way that you showcase your work, stepping into that, wanting to be a millennial artist, but also not be isolated to digital platforms. Then on an artistic and entrepreneurial end, I think the biggest challenge right now is trademarking and understanding my branding for [SUIT Beauty] and knowing exactly where I want to go with it. Like, the response that I got within the first six months to the year was so great.
But also it was all self-funded, because I wanted to bring the proof of concept to life without taking any investment. I invested all of my money. And so going into [the business], coming to the end of the first debut year and then entering this one—between the legal, and now understanding how to raise capital or potentially going to investors, really getting clear on the branding and how much bigger it actually can be—that is my biggest challenge right now. It's like coming to terms with that, but I'm really excited. That's also a huge reason why I'm moving to New York.

photo credit: Instagram/SuitBeauty
Any advice for someone who dreams of creating their own beauty brands? Are there any personal or professional struggles you encountered along the way, such as using your own money as opposed to getting funding? Any insight on how to overcome challenges?
I highly recommend working with [someone], because everybody steps into business to obviously make money, right? Like, it's not going to be a hobby, you want to be able to build a life on whatever it is that you're doing. Going back to what we had spoken about with mentors, if anyone is going to find a mentor when they're starting a business, I would say definitely have somebody with sound financial advice, and also work with an accountant or a financial advisor. Someone that's just really good with numbers, that can help you kind of posture your startup poll sheets and understand what is worth investing in, and [that] you need to have some type of return.
Granted, there are some things that you're just going to be pumping money into. But everything that you do, you want to be able to make money off of it. Also, working with people who are okay telling you no, because it's so exciting starting a business, and you just want to go hard and do all of the fun branding things, make t-shirts and hats and all of these things. But it's like no, no. Slow down on the brand awareness. You need people to tell you no. Surround yourself with business mentors who can give you really sound advice, and somebody who can maybe even help guide your numbers as you're starting off, if that makes sense.
I know your journey can inspire other people because you've done it all and you're accomplished. That's why I wanted to speak with you. Working on a talk show, most people don't understand about the union. And if you can just briefly talk about how to get in the union and maybe offer some advice for somebody who's looking to pursue a career in TV and film.
The first thing I will say is that, if you are a hairstylist, a licensed cosmetologist, it is completely worth it because I feel like hairstylists always work in the union. They're always looking for hairstylists, and I don't know why. I don't see a lack there of jobs for hairstylists because I don't think there are as many. There are a lot of makeup artists in the union right now, so it is kind of harder to break in. I've definitely had a harder time breaking into the circuit. But it is what you want. Go for it. I think it's a beautiful community, and it's really special to be a part of local 706. And the mentorship that they're now offering—this is something that just started this last year, of young professional mentorship and being able to seek advice by some of the top artists in TV and film—that in and of itself is worth it. But I would say just call the union, make sure that you're getting your hours, stay up to date, know like, everything that you need to get done.
Do it like you are working for yourself. The biggest thing that I feel a lot of artists and creatives get frustrated with is like, "Oh, they're not doing this for me." But you have to be responsible for yourself and follow up, take time out to really understand their structure and play by their rules. I think if you are on top of getting your hours and turning it in on time, you won't have a hard time, or just always kind of checking in. That's in a practical sense. But it was different for me because I got grandfathered in, I got star requested. So it was through working with my celebrity client that got me into the TV show, because she was able to request me. That's the way that I got in.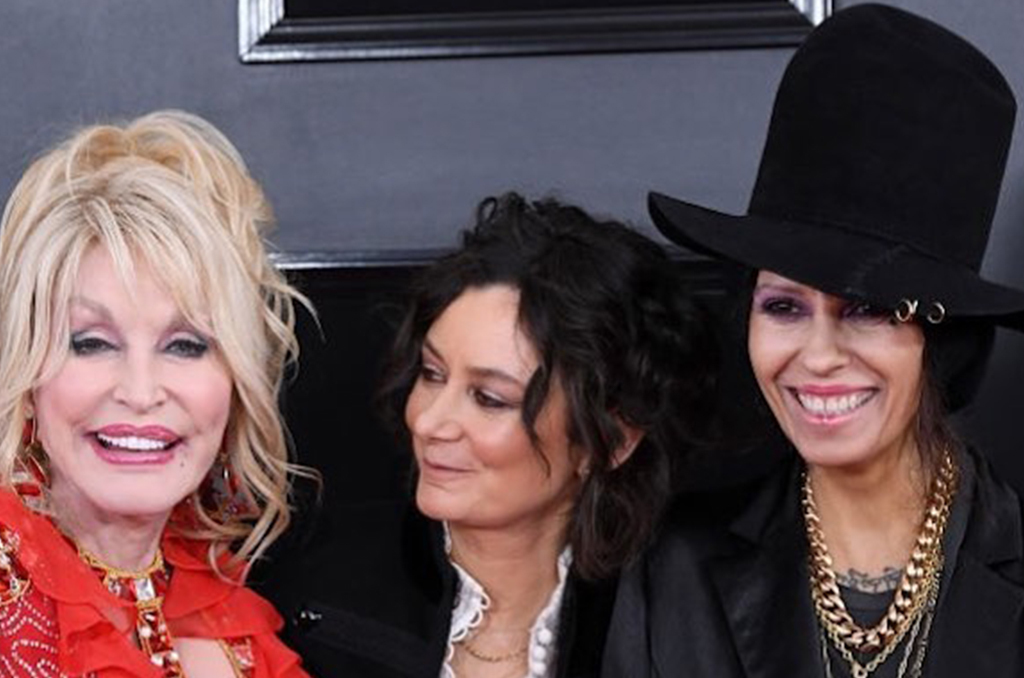 photo credit: Instagram/GabbiPascua (l-r) Dolly Parton, Sara Gilbert, Linda Perry
Tip: For aspiring makeup artists

that aren't in the industry, the quickest way to get into the union is definitely a star request. That is when a celebrity or the main principal on a TV show or film requests you and they have enough clout to make it happen. I know sometimes people are like, "Wait, what is this union? How do you get in? How does it work?" I encourage you to do your homework.
What inspires you professionally or personally?
I think the biggest thing that I find inspiration from is life in and of itself, like the moments that I get to travel. Traveling is very inspirational to me. There's something about getting out of your own element and being in a different culture, being in a different environment; seeing the way that colors are postured beside each other in a different way; listening to the music that they listen to. I love people-watching, and I'm completely inspired by women, just in the way that they like to celebrate themselves. So being able to go to a different city, a different country, and seeing the way that the women, and the men—seeing the way that they posture themselves, what's different, what's similar to here in the States. And then on an artistic end, what would inspire me is art. I love photography, so going to photo exhibitions, going to museums, I don't go enough. But yeah, art really does inspire art. Music, definitely.
What would people be surprised to know about you?
I didn't leave the country till I was 25. I feel like my friends are like, "Oh my god, you're travelling all the time." But I didn't leave the country till I was 25.
Where did you go?
I went to Europe.
What part?
I went to London. Then I went to Berlin. Then I went to Vietnam to see my family, because I have cousins out there. And then I went to Budapest.
I didn't grow up travelling, which actually surprised [people]. They're like, "What?" And I'm like, "Yeah." Oh, and I've never been to Mexico. California girl, all of my life.
You have no excuse.
I have no excuse. Like Rosarito, Tijuana, none of it. Never, never crossed the border.
Okay. Well, Gabbi, thank you so much. Let the folks know where they can find all your information.
You can find me on Instagram, is my main thing. It's @gabbipascua. From there you can find links to my beauty brand, SUIT Beauty, and all the other fun things. And thanks for having me. Really, it's been a pleasure. Thank you for wanting me to share my story with you.
Thank you, of course.
Disclaimer: The transcript above is from an interview by Sincerely Tam with Emmy Award-Winning Artist Gabbi Pascua, conducted for the Sincerely HER Podcast. The interview was edited for clarity and brevity.
LISTEN:
Full Interview Available on Audio