Story | Lori Taylor Davis Talks Smashbox, Pursuing a Career in Beauty, Setting Goals, Challenges, and Building a Brand
Mentor, motivator, iconic, legendary, style maven, supporter, big sister, friend — these just a few words that come to mind when I think of Lori Taylor Davis. My admiration for her may appear biased, but very few can lay claim to her accomplishments. To be frank, Lori epitomizes the word beauty. And it's no coincidence that she has established herself as a creative force in the world of cosmetics.
Someone said, "Beauty cannot be judged objectively, for what one person finds beautiful or admirable may not appeal to another." I would challenge anyone to say that Lori Taylor Davis isn't beautiful and admirable.
For two decades, Lori has been at the helm of one of the world's favorite cosmetic brands – Smashbox Cosmetics, an Estee Lauder Company – as everything from Account Coordinator to Lead Artist to Director and Global Pro Artist/Pro Relations. It's no longer common for someone to stay at one company for 20 years, but Lori has proved timeless and irreplaceable. And all these years later, she is as enthusiastic about her career as the day she landed her dream job.
When I decided I wanted to share the stories of amazing creatives, Lori was my first call. Always willing to support my many endeavors, she did not hesitate to share personal stories that have shaped her outlook on life, including setting goals, building a personal brand, mentorship, and doing Betty White's makeup.
From her trademark big hair and glasses to her face-painting skills, undeniable wisdom, and calming spirit, after hearing her story, you'll quickly understand how this all-around exceptional human being became the face of a legendary brand.
First of all, I want to say thank you, Tam, so much for having me on your podcast. This is, I think, one of the first podcasts I've ever done. I've done a lot as far as video and things like that, and this is my first podcast. So I'm happy I'm doing it with you.
What did you want to be when you were growing up?
I am a Los Angeles native. I grew up in South Central LA, what is now called South LA. And my segue into my career right now started, I would have to say, on my grandmother's vanity that she had in her bathroom.
I grew up in between two very strong women, my grandmother Dorothy and my grandmother Mary. My grandmother Dorothy was a woman that, even though we lived in LA, she would wear furs and hats to church. She was kind of my first icon — the first person I ever looked up to. I would watch her do her makeup. She had this vanity, and these little Avon lipsticks, and Maybelline eyeliners … all these kinds of makeup, and I was just always super fascinated with her process of getting dressed in the morning or getting dressed for church.
My high school years were in the 1980s. So now you guys have an idea of how old I am. And one of the people that I really thought was this amazing kind of human was Boy George, because he was a guy that wore makeup and had these crazy clothes, and he was from London, and I was like, this is crazy.
So pair my grandmother's vanity with a guy that wears color, and I started on this track of, oh my God, makeup is this amazing tool, and it became an early obsession in the 1980s.
We're going to go deeper into your job at Smashbox. But before we even go into the Smashbox years, I want to ask you, what was your first job experience?
I was probably about 16 years old, and I worked at a T-shirt shop that was over in what is now called Baldwin Hills Mall. Then it was just Baldwin Hills Shopping Center. People would come in, and they would get custom-made T-shirts. I would line up all of the letters and the stuff they would want to put on, or decals, and I was taught how to display on a printing press. So that was my very first job.
You talked a little bit about your grandparents and having strong women in your life, as well as Boy George. When did you know you wanted to pursue a career in beauty?
I was going to Cal State Northridge and my major at the time was business. At one point, I thought I was going to be the next Oprah because I wanted to have a talk show and be this strong businesswoman. But I realized that I just did not love going to college. I didn't like the process. I didn't love school. I think even in high school, my favorite classes were my art classes.
LISTEN:
Full Interview Available on Audio
I remember going through the first year and, first of all, it was far to drive to school. I was late just about every single day. Sometimes I would go, sometimes I would just get dressed and hang out with my friends. And I was like, I don't think I want to do this. I came home one day and I had to tell my grandmother and grandfather that I didn't want to go to college anymore. I think my grandmother looked at me like I had three heads. I thought I was going to get thrown out of the house because she was like, you have to go to school to get a job.
But at the time, I was like, you know what, I am going to get a job at one of the local makeup counters. One of the things I loved most were tear-through fashion magazines and things like that. And I was like, I want to do makeup, because I think makeup is the most incredible thing in the world. I'm going to get a job at a makeup counter. I'm going to save all of my money, and I'm going to move to New York, because that's where all the big makeup schools were.
At the time, there was a store in downtown Los Angeles called Robinson's. It was Robinson's first and then it turned into Robinson's May, and then it turned into May Company. I went during Christmas time, and they didn't have any openings on the cosmetic score. They were like, oh, we're going to put you in gift wrap. So I was in the gift-wrapping department, and I learned how to perfectly wrap Christmas gifts with the bows on top and all. Then they had an opening at the Lancôme counter.
When I started in cosmetics there were only three big brands: there was Lancôme, Chanel, and Clinique. And I remember working at the Lancôme counter, I had to pull my hair back in a ponytail, and I had this smock that I would wear. I had a little white Peter Pan collar, and I was like, I am living my best life right now. I am working at the Lancôme counter. I would do makeup on these older women, and they would be like, I just want to look like you. And I was thinking, my name is not Merlin, and this is not a magic wand. So I just don't know if that's possible. But whatever.
There was a makeup artist, an older guy, that would come into Robinson's, and he lived in downtown LA. Every time he would come in I would run to help him, and I was like if you ever need help, let me know. I will clean your brushes, I'll do whatever, because I'm going to be a makeup artist someday. And he's like, yeah, right, whatever. I finally pestered him long enough to where at one point he had me cleaning his brushes and organizing his kit and I was just like, this is so amazing. I am going to be a makeup artist someday.
So I worked there for a little while and then end up moving to Northern California. When I moved, I was working at a friend's business as a receptionist, and part-time I would work at the Stila counter as a freelance makeup artist. I got the job because a friend of mine, her cousin was the head trainer for Stila, and she needed a model, so she used me as her model. She knew very little about makeup. So when she went for her audition, I was coaching her through it. The girl was like, oh my God, are you a makeup artist? And I was like, yeah. I was not a makeup artist.
My early days in makeup after meeting these artists were working in department stores like Nordstrom and things like that for smaller brands.
You raised two points. One I want to talk about a little bit because I know there's some young lady, some woman out there listening that is probably in college, who feels the way you felt. I don't want you to advise them whether or not they should drop out, so that's not where I'm going. But what type of advice would you give to that person? Would you advise them to follow their heart? What are you thinking? You've been there.
I think at the time, that was the best choice for me. It was more like wanderlust. One of the things my grandfather told me early on was, you need to find something that you love to do, that you would do whether they paid you $10,000 or $1. That you can get up every morning, and it will get you out of bed. And I feel like makeup was that, especially working in a department store. In order to have a creative career in makeup, number one, you have to like people. Because you have to be around them. People aren't always easy, and it's not always easy to love them. So for me, I wanted to be around people. I don't know that I would tell someone, yeah, drop out of college tomorrow and follow your heart. But you have to find a career that every day, you just feel so fortunate that you get to do this for a living.
I'm going to fast forward a little bit because I want to jump into Smashbox. Because people know Lori Taylor-Davis from Smashbox. I don't want to date you, but you've already dated yourself.
True that.
You've been at Smashbox for almost 20 years, correct?
Yeah.

pictured: (l-r) Davis Factor and Lori Taylor-Davis
I know you started as a lead artist, and now you're the Director of Global Pro Artists/Pro Relations. Can you share a little bit about that path? How did you transition from becoming a lead artist to the position that you're in now?
When I started at Smashbox, I was working in Northern California at Stila, freelancing. One of the local Nordstroms brought in a new line, called Smashbox. And the whole story of the brand was that it was founded by two guys, and they were the great-grandsons of Max Factor. They were LA-based, and they had a studio.
My career path, at the time, had gotten a little bit further away from [makeup]. I never ended up going to a makeup school or moving to New York. I was definitely trying to move back to LA, I was in Northern Cal and I was like, it's time for me to go home. I'm going to work for this brand, and they have a studio. Somehow I'm going to end up working in the studio, and that will just help my career path.
I had a friend that was leaving. We both worked at NARS together, and he goes, I'm quitting. I'm going to go work at this brand called Smashbox. And I said, I know Smashbox. If they ever have a position, let me know. He's like, hold tight, and hopefully something will come up.
So he's probably there six months, and he's like, I have a part-time position. I took a demotion to actually come to Smashbox and just work freelance.
In the first 30 days that I worked at Smashbox as a freelancer, they need a whole crew to go to Las Vegas. We're doing this event in Las Vegas, and it's called Divas Now. And I was like, oh my God, count me in. They flew five makeup artists down, and on the bill was Whitney Houston, Cyndi Lauper, Tom Jones, and I want to say Faith Hill or somebody like that. And I literally was like, oh my God, in the first 30 days that I'm working for this company! I'm never leaving. I'm home. I got to touch up Cyndi Lauper a couple of times, and I was like, oh my God, it's so incredible.
So I started as a freelancer and my job there was an account coordinator, which is basically somebody that goes around to the different stores and makes sure that when they're having events and things, they're all set up, and I'm there to kind of be the rah-rah and the cheerleader for them. So it was a little less makeup-ey and more business, which I think was good, because it taught me a lot about the business of makeup. Whenever you work at anything, you need to know all the aspects of what you're doing. Because the layers within cosmetics all relate to the end game, which is that women need to buy makeup. So putting on makeup is one aspect but knowing how it's formulated, or knowing how you sell it, or knowing how it's marketed is a whole other thing.
So I was basically an account coordinator, I was an account executive. I was a freelancer. And probably about 10 years ago, they needed somebody that, as a makeup artist, could talk to other makeup artists and promote the brand. So that's when they gave me the promotion of, we want you to talk to other makeup artists and bring them in. From there, I ended up working a lot with Davis Factor, one of the founders in the studio, and being his number one makeup artist whenever we create any types of looks or anything that you see visually from Smashbox.
I'm just curious, do you think your career path chose you or did you choose it?
That's a really good question. I feel like it's 60/40, it chose me and I chose it. I think I always had a love for makeup. Funny story, my grandmother used to always tell people — when she finally realized that I was a makeup artist and you could make money doing that and take care of yourself — she would always [say] you know, darling, it makes so much sense. Every year we had to get you a new Barbie (because I had the one that just had the head and shoulders) and you would either do her makeup or comb her hair. So, of course, I would cut her hair. And then after I ran out of makeup, I would take my crayons and I would color in Barbie with crayons. Well, crayon doesn't come off. So I'd have to take Ajax [cleaner] to get the crayon off. But then by the end of the year, Barbie would have no eyes, no eyebrows, and now she would just be a blank slate.
So I always had an affinity and a love for makeup and how it can transform. It was one of those things. And I think, working with a Lancôme counter, there's something very rewarding when you can make someone else feel beautiful, or just brighten someone else's day. I love people. Well, not sometimes, but for the most part. It was always so fascinating to me that lipstick, or eyeliner, or the smallest little piece of makeup … a woman may not be able to afford $700 Louboutin, but they can afford a $30 lipstick. And there's something that was rewarding about that. I feel like I got the reward of being able to do something that I love, and what I love to do actually could brighten someone's day. So I think it's definitely 60/40, it chose me and I just let it take me away.
What was the biggest challenge getting started in the beauty industry?

I would have to say … Beauty has changed a lot now. Now we're in the realm of social media, where we have influencers. A girl can do her own makeup and get a million followers, and that's a career path. I think back in the day, it was a secret society. You really had to know someone who knew someone. You had to really, really, really put your work in. And there are only so many jobs for so many people, so you couldn't let "No" stop you. I felt like that was one of the biggest challenges, and having somebody that believed in you to really be like, oh, here, let me introduce you to this person, or I know this person, let me take you there. Having to know the right people. Because there are times when people are like, yeah, I'll help you, and it's a lot of lip service. So just knowing how to navigate the business, because it is business.
Did you have any mentors when you were breaking in? Do you think it's important to have mentors now? What are your thoughts on that?

I definitely think mentors are hugely important. My mentors were, looking up to someone like Pat McGrath or Kevin Occoquan, makeup artists that were creating these amazing, next-level — not just runway or red carpet looks, but looks that were literally art. I would pore through books by Stefan Moray or Way Bandy, who created one of the first makeup books in the 70s. This is way, way, way back when. So I'd have to say my mentors were people that were taking makeup so far creatively, that you would just be like, oh, my God, how do they even think of creating something like that? And more importantly, how did they do it? How did it last? And how can you work with a canvas that's actually skin and texture, and create these amazing, amazing images?

photo credit: Instagram
Do you think training is necessary with all these Instagram artists booking celebrities, as well as securing major deals these days?

Instagram has changed the game, and it's a different way of marketing yourself. Because that's really what it is. I look at it as, yes, it's creativity. But it's a marketing tool. And again, I didn't have that way back when. I think that it's the perspective that you're looking at it through, because Instagram can't teach you how to be on set. That's something you have to get by doing it. It can be your introduction, and you have to have the wherewithal to know the right social norms. Back in the day, if you were a makeup artist, there was no way that you were even allowed to take someone's picture. What you were doing was something that was kind of in secret. Magazines had basically embargoed the images. So you would do it in June, you might not even see your work until December. It's a whole different realm.
The makeup artists that we're seeing now, I think that there's a whole piece of the puzzle that is knowing what to do. So yes, you are talented, you do beautiful makeup. But how do you interact when you're on set? How do you interact with your client? How do you interact with the person that's in charge? First of all, you have to know who's going to be on set, and you should do your homework before you show up. Who are you talking to? Who are you interacting with? It's not just you and your client. That's one aspect of it. But it's [also] their publicist, there's a whole laundry list of things you have to know.
The way my career rolled out, I learned by doing, because I'm also a visual learner. And I think that sometimes they miss that, they go straight from A to Z, and they miss all the ABCD, all this stuff in between. I think this business only gives you a few times to do something really well, and if you don't catch on really quick, you will not be given another chance. So the way I came up was great for me. Getting through the door is the first step though. It's what you do after you enter the door that's really the testament to what your career is going to be.
I find that a lot of artists just don't know the dos and don'ts of the industry. What's your best advice for aspiring makeup artists who want a career in makeup artistry or who want to work at a cosmetic company? What are some definite dos and some definite don'ts?


Wow, that's a really great question. I'd have to say, do the work. I feel like we're so quick, and we want rewards right now. We want to go from A to Z so quickly. The work in the middle is the stuff that helps you to have a strong and lasting career.
I always tell makeup artists, when you are on set — let's say that it's a photo shoot, and you're in the makeup room — be the quietest person on set. Sometimes just sit and observe. You don't want to be the drama queen. And guess what, they're not your best friend. You don't need to join in their conversation. That's a conversation between them and their stylists, or the talent and their publicist, or the model and whoever. Sometimes just sit and observe.
I think back in the day, I assisted some really great makeup artists, and I just observed what they did and took all that in and poured it out in my own version. I think we're skipping a lot of that right now. A lot of makeup artists are booked from what you see on Instagram and they have a million followers. They show up and suddenly they're doing some celebrity's makeup because they figure, if they have a lot of followers, I'll get more followers. And with that, a lot of mistakes are made.
Be early, show up on time, work, and don't complain. Don't be on your cell phone. Have a clean kit. If you're not sure of something, there's someone you can ask, but know how to ask a question. You don't want to seem like you don't know, but it's easier to ask a question than it is for you to do the wrong thing, and now you've slowed down the shoot for God knows how long.
And you know what, it's not about you. Yes, you are a part of a bigger picture. It's not just the makeup. It's not just about you and your talent. Your talent is actually helping to create something else. Check your ego. Don't be so insecure about your talent, [it] got you there, own it, but check your ego at the door.
Lori, I'm so glad that we're sitting here having this conversation, because this is the type of information that I'm hoping someone that is starting out can take and really put to use. And I just want to add this one thing. If you are an Instagram artist and you're listening to this, we're not coming down on you. No one's doing that. Whether you are working currently, or you're just coming up aspiring, or if you are that Instagram artist, we just want you to understand that this business was going on before you got here. Not that it's not changing, but no matter if you are a doctor or a lawyer, attorney, or makeup artist, there's just proper etiquette that should always be followed. With the new influx of Instagram artists, some of that is not necessarily being adhered to. Because even with rates — and hopefully in a future podcast, we'll talk a little bit about rates as a creative. There are Instagram artists that come in like, yeah, I'm going to do $250 for a do and go (and if you guys aren't familiar, a "do and go" is when you just show up to a celebrity's hotel and do their makeup or hair or something like that).

And then go.
You guys are coming in and talking about $250 when there are artists who make $1,000 for the same thing, and if you're going to say $250, you're driving down the market. So that's my argument. Whether it's a photographer, a makeup artist, understand the game before you jump in and ruin it for everybody. I hope I'm not being too harsh, but I think you understand what I am saying.

Fully understand. And that's true. Know your worth for sure. Don't be so thirsty that you're like, oh my God, I'll take $250. Would you not want $2,000 instead of $250?
We'll talk about how commission breaks down in a future podcast. But on that note, when collaborating, what do you suggest to ensure a cool work environment?

In the 25 years or more that I've been doing makeup, I've invested in a collaborative environment. For me, when I'm on set, I normally let the hair person go first so that they'll pull all the hair back. You have to remember, this is a team. It's a stylist, a makeup artist, a hair person, a nail girl, and a photographer. You are the five main people on set, besides the lighting guy, that are going to get the image. Realize what the endgame is. Is [it] a beautiful image? Your job is just to be a part of that process to get to the endgame. So be collaborative.
Trust me, I have been on sets before where the hair person and the makeup artist aren't getting along. And the next thing you know you're on set, and suddenly that hair is all in front of the makeup. So little things can happen. I think it's one of those things where it's not all about you. Check your ego. You don't want to be a yes man. You don't want to get walked all over. But it's easier to play nice than it is to be the drama queen causing all this energy. Then the energy just gets bad, and next thing you know you only got 2 out of 10 images, and you're not getting booked the next time. You're a problem and you show up and they're like, oh my God, there's that makeup artist again.
I came along in the days [when] there were some divas, and they would show up and they had their fanfare. The makeup artist had assistants who had assistants, you know what I mean? And I look, and where are they now? Because when the game changed, the budgets were smaller and you got to do hair and makeup. Now we're on the third or fourth iteration of that in my lifetime, where it's a different game. So you have to know how to play if you want to be successful. Longevity is everything.
Switching gears a little bit. Do you think resumes are still important? Or do you think it's more about who you know?


I think definitely a resume. I don't love people that lead with a resume. Oh, I did so and so. I'm like, that's really great. But they're not here now, and we're on a different shoot. I think you have to have some type of history of who you've done and what you've done, for sure. And that just speaks in the images that you're creating, what you can show. They need to see what you can do.
I think it's very funny when I talk to young makeup artists, and they're like, I would never work at a makeup counter, I would never do something like that. And I was like, I don't think I've ever said I would never do anything when it came to makeup. I started at a counter and my journey was different. Some people's journey comes a different way. So, yes, a resume is important enough, but it's really just the history of what you have done.
You have to understand that when I came up, we used to have books, there was no Instagram. You'd have this beautiful portfolio, you open it up, and you had about five or six pages. The first five or six images were the ones that were going to get you work, and they had to be a true reflection of what you can do. But mind you, the people, the art directors that are looking at that, they're looking for somebody that can do this thing that they want, because they're not makeup artists. So you had to make sure that you had that portfolio in a way that made sense for that particular art director. It's your calling card. It's the thing that's talking about you when you're not in the room. So I'd say your work should speak for itself, and what you have done tells the story of who you are and what you can do.
I want to add something to that. I had a potential client, they actually became a client. But they approached me about an artist that I represent, and they were like, can you send us his Instagram? And I was like, well, first and foremost, I don't like to throw it out there like that. But he's an Emmy Award-winning makeup artist, let's establish that, with a long history of not one, but two supermodels that he worked on, both of them for close to a decade. I said, I tell you what, let me send you his website and his media kit.
Actually I was just looking at his physical portfolio recently. And I was like, oh my God, I've had this book for a decade, because we've worked together for close to a decade. But I find it very interesting for anyone. I felt bad. I didn't like the way the tone was, in terms of them asking me about his Instagram. Because who asks for Instagram? You're coming to me? If this guy has representation, not even an agent, but a manager, then he's of a certain level.

A certain caliber, for sure.
So he is not an influencer, where you're like, oh, let me see his Instagram. Just so happens he doesn't post much on his Instagram, so you would never know who he's working with. But this is the new day and age where it's all about Instagram. And I think you and I, we're from a different generation where it was the portfolio, the hardcopy portfolio, then it went to the online portfolio, which is your website. But how dare you ask for an Instagram. But that's a whole other story. I just wanted to add that.

I love that you even brought that up because it is one of those things where you're like, truly, when you are busy in the game and really doing makeup on set, you don't have time to Instagram. You have enough time to watch the monitor, make sure that the makeup is turning out the way that it's supposed to. And then they're like, okay, that's it. Let's change her. You don't have time. In this day and age, you almost need somebody there that is Instagramming for you. Because if you're really truly doing what you're supposed to be doing while you're there, there is no time for that. There really is no time.
What do you think about asking a celebrity for a photo for Instagram?
I think when working with some of the clients that I work with, if they're like, hey, get in the picture with me, then cool. It's like you said, it's a different era. First of all, you don't want to seem like you're thirsty for a picture. So if they're saying, yeah, get in this picture with me, then that gives me license to either regram or [ask] can you send that to me so I can post it. And half the time they want you to. Then you'll meet some that, that's not their steal.
And to be honest, as a makeup artist, it took me a while to have one separate personal account for Instagram and one separate business account for Instagram, because they should be separated. So it's just a super different era right now. Etiquette is everything. I feel like you have to know, your talent gets you through the door. The rest of it is how you act in that environment.
I think it's almost, if you're not flicking it up, you're not documenting it, it didn't happen.

Exactly. My husband always says, if it's not on Instagram, it didn't happen. And that's sad. Because I feel like there are so many moments — there's a time earlier this year that for two weeks, I was like, I'm just going to take a social media break. And you actually are able to be in and enjoy the moment that you're in. The thing that you dreamed of in this career sometimes gets overshadowed by the fact that, oh, I have to post and I have to do this, and I have to do that. Sometimes just being in it and having that peace for yourself is part of the reward of actually getting to a certain level.
We can talk about this subject forever, but there are a few questions that I want to get to that I know our listeners definitely need to hear your answer to. So let's kind of change a little bit. We went deep on the flicking it up.
We went in. We went in.
What qualities make a good global pro-artist for a cosmetics brand?
I was always a person that, no matter what I was asked, the answer was yes. I can do it. And if I can do it, I'll try to figure out a way to do it. Just somebody that's eager and willing to try new things. I don't know if applicable is the right word, but someone who's like, alright, if this is what we're doing today, then let me just jump in and give it 110%.
There are some days that are two-hour days, and there are some days that are 15-hour days, or 20-hour days. But remember, you got in this game because this is what you wanted to do. I think [it takes] a lot of hard work, a lot of listening, and a lot of having the answer before the person asks the question and being two steps ahead. This is the thing that you wanted to do, so when you're there, do it with everything that you have inside of yourself.
What's been the most challenging part of your job?
I think one of the biggest challenges is, you might not agree with something that is happening or a certain set of systems that are maybe being inflicted on you. I think that's the most PC answer I can give. Sometimes it's not going to be the way you want it. But you don't get to have everything your way all the time.
What's a typical work week for you?
It depends on the time of the year. There are some days when I might be in front of a computer all day talking to other makeup artists, telling them about Smashbox. I might do an interview for Vogue magazine or Glamour magazine or birdie.com. There are some days where I'm literally on set all day just doing makeup and creating images for Smashbox and our campaigns. There are other times when I might have a client that has to get ready to walk the red carpet. Sometimes I'm on a flight going to another country where Smashbox is sold, where I might be doing press or morning TV or makeup.
I like to say my job is like tofu. You can't tell what it is, but you're not mad at the taste. I feel no week is ever the same, which I think is enjoyable. I have makeup artist friends where all they do is paint faces, and sometimes, carrying that kit around, they're like, I just don't feel like painting today. Sometimes you won't feel like painting a face. My job is different all the time. It's good because you never know what you're going to get on any given week.
Your job requires a lot of travel. How do you balance a demanding career? You mentioned you have a husband who also has a demanding career. How do you balance your career with your social life? And I know a lot of your career spills over into your social life. But how do you balance it all? How do you keep hubby happy, house happy?
Oh, you know what, he's a good partner. He is my other half. I don't think I would be where I am right now if he wasn't as understanding and patient and my number one cheerleader, or the one that is like, okay, I have to check you on that, you were dead wrong. He's the person that balances me. He makes me a better person because he's such an awesome person.
I think the social part, you will miss a lot of really amazing family moments or friend moments. There's nothing worse than [when] everyone's like, hey, can you come down on Friday? We're going to go to happy hour. And it's like, girl, I am in Greece, or I am in some other place. Being in the UK, and you're just like, it's cold. I'm tired. I wish I was home. I'm jet-lagged. Oh my God. There's a lot of that.
I feel bad sometimes for my husband, because he doesn't really go out without me. When I come home, all I want to do is be home and sleep. And he's just like, let's go out. And I was like, I don't want to go anywhere. Because my job is a lot of giving and putting out all this energy, so sometimes it takes a lot to refill that space.
You definitely need a fantastic support system. When I went to my grandparents and I was like, I can't go to school anymore, they were like, well, you have to get a job. I got a job. They didn't miss a blip. I remember one of the very first times my grandmother realized what I did. I had done something on one of the morning TV shows and she had tuned into KTLA channel five, and she saw me on there, and she called all of her girlfriends and was like, oh my God, my granddaughter's on TV. She's like, so you do makeup, and that just didn't equate to money to her. And this is, of course, way back when. So just having a truly, truly, truly amazing support system. I think some of my first makeups were probably done on my poor brother. I told him I would never share it with anyone. But oh, well. It takes a village to help create the person that you're going to become.
As someone who is established and seems to have everything, do you still set career goals?
Oh, every single day. There's nothing better to me than watching other makeup artists do makeup. And I will watch someone at a counter the same way I will watch a video from a makeup artist like Valenti Frazier, or Pat McGrath.
I think it used to be, when I finally get a few pages in a Vogue magazine, then I have reached the mountain top. And then you're like, okay, I did that. Or, I can't wait to do makeup on TV, and then you get it. The bar just always keeps raising. Because I feel like, if you put a set amount of checked off boxes, once you check them off, then you're limiting yourself.
There are times when I will go to a store sometimes, and I can still do Mrs. Jones's makeup from Atlanta. And she's just so jazzed because you found her the perfect red lip that she's been looking for years, and no one else could do it. That gives you the same joy as doing an ad campaign for Smashbox. Because I picked this career, and I wanted to do this. I get to be myself and travel and have a life from something that nobody told me was a job way back when.
This question may be a little difficult to answer. I don't think it's a difficult question. But sometimes as women … I don't want to say our voice is not heard, because you're in an industry that I guess is really dominated by women. But I want to ask you, and hopefully, this will help someone that's listening. How do you make sure that you're not just sitting at the table, but that your voice and your ideas are heard?
First of all, the fact that you're even at the table is huge. You have to own that. When you're there, you have to add something to the conversation. You have to have something to say. It doesn't have to be an hour-long soliloquy on why this eyeshadow was better than that, but it has to be something that is impactful, that someone can walk away with something. It could be something so short as, you know what, here is a segment of the beauty community that is not being served. I know this, because I'm in that community, and this is what we should be doing. Do you know what I mean?
There's a lot of women, but there are still a lot of men. And sometimes, people come from different backgrounds. So your background and the things that you know, your life knowledge, can at times add to something that someone else isn't saying. So when you're sitting at the table, really think about it and have something to say.
Did you ever feel intimidated when you were first starting?

Oh, for sure.
LISTEN:
Full Interview Available on Audio
Because now you're a veteran in the game. If you speak up, people more than likely are going to listen. But at that beginning phase of your career, did you ever feel like hiding, if that makes sense?
I would say it's funny because by nature, when I was a lot younger, and as a person, I am actually very shy. It's crazy. People are like, you're shy. I am. Meeting new people at times, I'll be like, oh my God. I have to really get myself in the right headspace to be pumped up, because you're also exerting so much energy when you're trying to not have awkward conversation with people.
Smashbox is owned by Estee Lauder. I have been in the room with Leonard Lauder, John Dempsey, and Fabrizio Frieda, and they are running the entire company. It's very easy to look at these titans of the beauty industry. But you also have to understand that I know my stuff the same way that they know their stuff.
A friend of mine said that it's so hard to be in a room of very, very smart people, because you always feel like, oh, my God, they're so much smarter than you. But be in a room of super-smart people that know nothing about cosmetics and just start talking about it, and you'll watch them kind of melt. Like, oh, yeah, my wife uses so and so. Oh, you do that. And it's almost like there's a leveling that happens. They only know what they know, and you only know what you know.
People, in general, are curious about the things that [they] don't know. So when you're in a room with people, it's like, you know what, I'm just me, and they're just them. And I like me, and I have people that like me as well. So if they don't get it, they don't get it, and that's their loss.
Any advice for someone who is trying to land their dream job? Whether it be a celebrity makeup artist or somebody who wants to work for a cosmetic company like Smashbox, what advice would you give them?
Do your research. Really understand who you're going to work for. Because on the surface, a lot of things look like the grass is always greener. It always looks really, really, really great. Do your research, ask questions. LinkedIn is one of those really great tools where you can talk to people that work, or you can email people that have the job that you want to have. I will tell you, people love to talk about themselves. So if you ask the right questions, people will talk to you about it.
Don't be a stalker, and don't be crazy, but really talk to the people that have the job that you want. Because eventually, they're not going to have that job. Who knows, you may be the person to get it. So don't be afraid to go up and talk to people. It shouldn't be in the women's bathroom or something like that, but make sure you know it's in the right setting.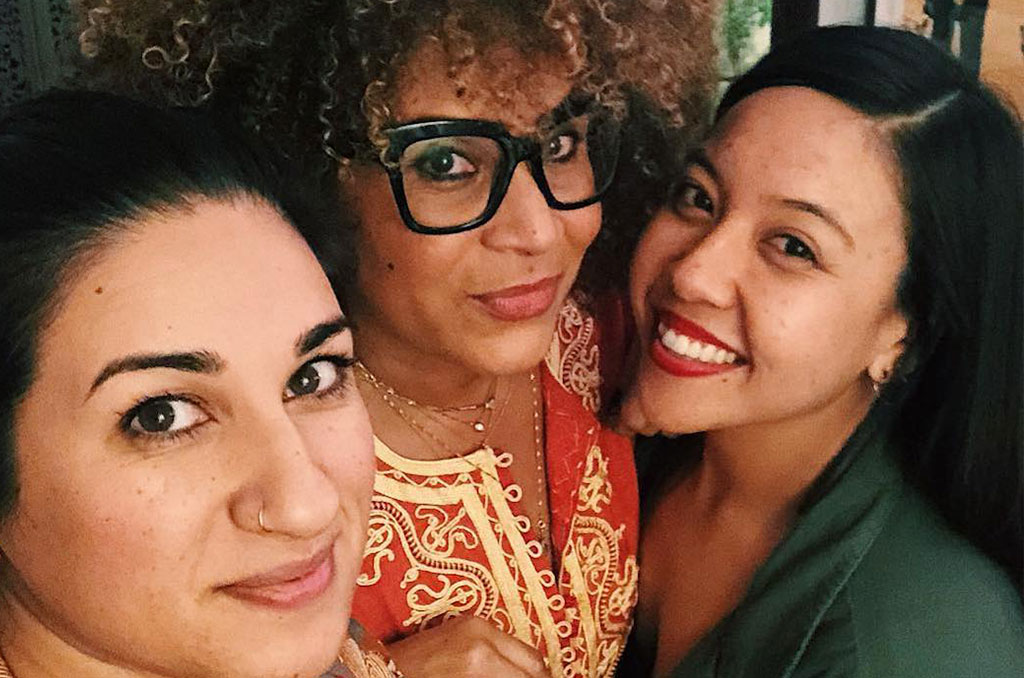 pictured: (l-r) Kirin Bhatty, Lori Taylor-Davis, Gabbi Pascua
If you were adding someone to your team, what is the one quality/skill you would look for? What's important to you?
Any of my assistants that I've had before will tell you. I don't ask anybody to work any harder than I will. I have assistants that would come to me and be like, oh my God, I worked for this makeup artist. She was such a nightmare to me. First of all, I believe in pay it forward. I always said if I got to a state where I could actually help someone to build their career, I would do that. So, hard work.
And it's almost like I need you to be my extra set of hands. I need you to really pay attention to what's going on, because we are in this together. I had this amazing assistant, who has now gone on to be an incredible makeup artist. Shout out to Kirin Bhatty. Kirin's amazing, and so amazing to talk with. It was her, and I have another assistant, Gabbi Pascua, who's so sweet. [She] has her own brand, Suite of Beauty. Gabbi literally emailed me and called me, and emailed me and called me. Kind of light weight stalked me, she was probably 19 years old and didn't know. And I was like, you know, I'm going to give this girl a chance. If you show up today, at this time, I will sit down with you. And she showed up. We had this amazing conversation, and I was like, great.
So I had Kirin as a makeup artist. She came to me from another photographer, and she was the hardest worker. She would unpack my kit, pack my kit, and there were times when I was like, I need you to unpack it because I don't even know where you put everything. She was my extra set of hands. She was almost like an offshoot of me and she's like, I learned so much from you.
And there'd be times when maybe I [was] tired, I would have traveled and then came in, and she could tell. What she would do is be the talker on set, so that all I had to do was makeup. It's those little nuances. She was almost like my husband, but my partner. She was the person that knew whatever kind of day I was having, she was always there to alleviate and make things easier for me.
So I ask people to be hard workers, be quiet. They're not your new best friends. Do not take pictures. And you need to show up before I do, because I kind of run a little late all the time, which is terrible.
I always like to ask people, what is the top question that you're asked all the time, especially about working at Smashbox? Aside from people asking for free products. I'm sure that's a big thing.
I do get asked for a lot of free products, this product is pretty good. I think they ask, how did you get started? And I kind of run through my story. They're so young now that they only know Instagram. For my story, it's a different road. I took a different route.
The one thing, when I'm talking to people and they're interested in working at Smashbox, I'm like, there are so many different types of jobs. It's not just doing makeup, it's creating makeup, it's marketing makeup, it's packaging, it's working internationally. There are so many different aspects of working at a beauty brand. I think that's the next level to it. I don't want to touch people, and I don't want to do makeup, but I still want to work at the brand. What jobs are there at a beauty brand? [Those are] I guess some of the top questions.
What is your proudest accomplishment in your life, as well as your career?
Oh, wow. My proudest accomplishment? I'd have to say, there are a few. Definitely when I was the lead artist for when we did LA Fashion Week. I was the lead artist for over 15 or 20 shows, which is a whole other dynamic of doing makeup. I think another accomplishment is I got to do Betty White's makeup one time, which is so great, because she's an icon, and she's a Golden Girl. That's just so amazing.
For young folks, for the young girls, that was everything.
Everything, please. I also did Ice Cube one time, which is actually pretty cool. He did not want makeup. He was like, you don't make me like an R&B guy. And I was like, no, but you need some anti-shine, Cube. So let's get it done.
This is kind of in the middle of my career when I was a trainer at Smashbox, I was in Atlanta and Smashbox was just opening up at Perimeter Mall. We were there for a couple of days, and a woman came in with her mother. They had a whole day of beauty, and the mom just felt so pretty. She didn't really have any eyebrows, and I showed her how to do eyebrows. Then I gave her my card, and I was like, if you have any more questions about anything just call me.
LISTEN:
Full Interview Available on Audio
About three months later, I got an email from the daughter like, thank you so much. I don't know if you remember me. I met you at Bloomingdale's in Nordstrom Perimeter Mall in Atlanta, and I have to thank you for this really amazing day. She's like, I don't know if we told you but my mother had stage five cancer and she died, and you made her feel so beautiful that day. That was in 2009, and that story sits with me to this day. The smallest kind of gift you could give someone when you are interacting with them is the gift of making them feel better about themselves. That is the gift of beauty. So that's one of those moments that's huge for me.
It also reminds you, you never know what people are going through, you never know who you're talking to. Sometimes people talk, especially on set, they're gossipy and they don't really understand who they're talking to. And in this day and age, you could be talking to the assistant, you could be talking to the director, you just never know. So I think the message is to always be kind when you meet people.
That's the most important. Think about it, you are not working at a cubicle where you're just trying to get through piles and piles of paperwork every day. You get to do something creative that you are able to pay your bills and take care of yourself. Do you know what a gift that is? And you know what, stop being mean and bitchy. First of all, don't be a gossip. Keep your mouth shut. I will always say, be the quietest person on set. The person that someone has to ask, who is that over there? What was her name? You're the one that stands out because everyone else is losing it. You're the quietest one and the most calming presence. Someone [who's] just giving all they have to give.
As we wrap up this podcast, I have questions that are not necessarily about Smashbox but more about Lori. What is your top advice for someone trying to build a brand, and what is Lori's brand?
Top advice for a brand? I'd have to say, there's a lot that's been done brand-wise in cosmetics. It has to be something that is an offshoot of you. Something that you almost want to change the world with. It doesn't have to be a million-dollar idea, but it does have to be something that is so personal to you, that it's almost like birthing a baby. This is my child, and I want to set it out in the world. I want everyone to love it. So definitely building your brand that way. Because if you put a little bit of yourself into it, it's so rewarding.
I think my brand is brand big hair. Maybe one day creating something that helps naturally curly-haired girls, makes the process of having all this on top of your head so much easier.
We haven't talked about it, but you guys will find out. If you don't know, Lori has pretty much been the face of Smashbox for many years. So Lori is as she says, the big hair girl.
The big hair and the glasses. That's how you know it's me.
Yes. And the mole. What would people be surprised to know about Lori Taylor-Davis?
I think there are a few things. I can sew. I can cook. I can change a tire. And I love camping.
Glamping or camping?
Camping like camping, camping, camping. Glamping is cute, but camping is actually one of my things. I just like being outdoors.
What advice would you offer the young girl or the established career woman?
Give yourself a break. Don't be so hard on yourself. Definitely have goals, but if they have to change, as my husband says, be able to swivel. Just because you start one way and on one road doesn't mean that there might not be a fork later that takes you in [another] direction, but it can bring you all the way back around. It's your dream. If this is really what you want to do, put in the work for it. It deserves that.
I like that. Be able to swivel. It has been a pleasure speaking to you, Lori. You are my big sister. You're my friend, you're everything. So like I told you, it was very important for me to have you on the podcast. We talked about a lot.
Exactly. What an absolute honor to be on the maiden voyage of your podcast. It's going to be amazing.
Disclaimer: The transcript above is from an interview by Sincerely Tam with Lori Taylor Davis, conducted for the Sincerely HER Podcast. The interview was edited for clarity and brevity.
LISTEN:
Full Interview Available on Audio