The World Is Waiting On You To Show Up (and kick ass)
.
Spending too much time overthinking and not enough doing? Overwhelmed with well-intentioned advice and too much information? Feeling the call to pivot but not sure how?
Many people lack the correct mindset to be successful, but you don't have to.
Build your dream life

with the tools and resources you need to be a successful.
Create The Life You Deserve.
01
Listen
.
Be inspired to accomplish your goals, take action, and become more confident with bite-sized motivation from the Sincerely HER Podcast.
02
Shop
.
Increase your personal growth with
made-for-you personal development tools.
03
Join
.
Go from clarity to impact personally and professionally with on-demand workshops and a badass mastermind.
The Sincerely HER podcast features daily bite-sized motivational notes and exclusive interviews that will inspire you to take action and achieve success
.

This isn't an ordinary podcast

.
LISTEN NOW!
I created Sincerely HER for creative entrepreneurs to have a space to find clarity, brand, and win.
Be the quietest person on set and sometimes just sit and observe.
What worked for me was focusing on the makeup.
Lori · Taylor · Davis
/ Smashbox Cosmetics /
What's the best career advice you ever received? For the Sincerely HER podcast, I sat down with Lori Taylor Davis, Director, Global Pro Artist / Pro Relations at Smashbox Cosmetics, an Estee Lauder Company. Lori shared some definite do's and don'ts, what she looks for in team members, mentorship, and more.
LORI'S STORY
Gabbi Pascua
/ Emmy Award-Winning Makeup Artist /
Like most creatives, Gabbi Pascua's journey is more comparable to a jigsaw puzzle than driving in a straight line on a one-lane road. I sat down with Gabbi to discuss her career highlights, challenges, and aspirations. Gabbi talks about the importance of mentors, what influences have affected her life, and the life-changing advice her mom shared with her. Gabbi's story is nothing short of intriguing and inspiring for anyone looking to find clarity, get sh*t done, and win.
Gabbi's Story
Become a better version of yourself

with personal development tools to help you find clarity, get sh*t done, and win.
SHOP NOW!
Never limit yourself because of others' limited imagination; never limit others because of your limited imagination. - Mae Jemison
Network
. 

Learn

.

Share

.

 Be Inspired.

Make an impact. Improve your knowledge and boost your confidence with on-demand workshops and a badass mastermind designed to help you
reach your super-sized goals

.
JOIN NOW!
Find Clarity, Get Sh*t, and Win!
LISTEN
Sincerely HER
Podcast
SHOP
Personal Development
Products
JOIN
On-Demand Workshops
+ Badass Mastermind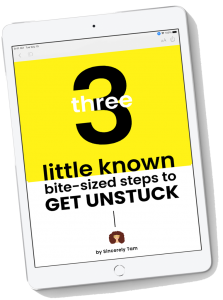 Stay Focused and Get Sh*t Done?
Get your FREE guide with 3 bite-sized steps to overcome feeling stuck!