The idea for "Sincerely HER" was conceived when Sincerely Tam, a Brand & Talent Manager, and Valente Frazier, an Emmy-Award Winning Makeup Artist, created Makeup Artists Meet, a global community for makeup artists, beauty enthusiasts, and industry creatives. Recognizing that many of these wantrepreneurs lacked basic business knowledge and the correct mindset for success, Sincerely Tam applied her decade of experience as an entrepreneur working with talent to create Sincerely HER.
Ready to listen to bite-sized motivational notes? Want to shop curated personal development tools? Are you interested in joining on-demand workshops or a badass mastermind? Sincerely HER is for the artist looking to find clarity, the creative who is spinning their wheels and can't get sh*t done, or the entrepreneur who wants to win.
I get it! For over a decade, I've helped award-winning artists and creative entrepreneurs find clarity, get sh*t done, and win.
We all need motivation, whether we admit it or not. Mine came by diving into personal development, listening to motivational speakers, reading hundreds of motivational books, and being fearless when it was time to take action.
I found the courage to live life on my terms when I pivoted from corporate life to creating my brand and talent management company. I constantly reinvented myself even when I didn't realize I was doing so. Deep down, I knew I could have more, so I started writing notes to remind myself that it was okay, I could, I can, and I AM! I became the "Queen of Bite-Sized Motivation," got clear on what I wanted, and set super-sized, life-changing goals.
I love working with creatives. It's why I created a daily bite-sized motivational podcast, motivational products, and a badass mastermind group. These are the resources I wish I had when I was struggling to find success.
I always controlled my own destiny, even when I didn't know it. And so do you.
Hey You!
Sincerely HER provides personal development tools to help you find clarity, get sh*t done, and win.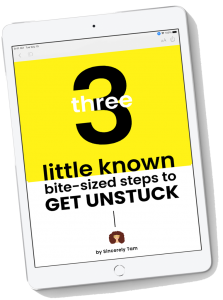 Stay Focused and Get Sh*t Done!
Get your FREE guide with 3 bite-sized steps to overcome feeling stuck.